Ksenia Cosmo, a student at Melbourne Girls Grammar School in Victoria, recently won the Aspiring category of the Wool4School competition. With a transformable collection designed for her hero, Courtney Act, the designs consist of four garments and accessories that are interchangeable into ten different looks using Revolutionary Zips.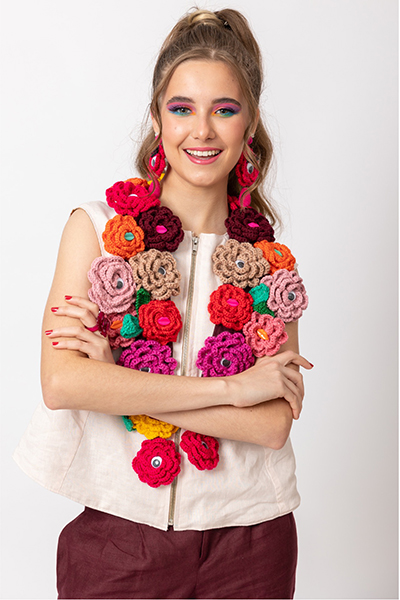 Ksenia's Merino wool collection includes four garments ranging from a leotard, trousers, coat, shoes and accessories including a shawl, warmers, necklace, earrings, that are able to be successfully changed into ten different outfit variations. Additionally, Ksenia made her design into an actual garment, as an addition to the original design brief. Her design was also transformed into a digital avatar.
As the winner of the Aspiring category of Wool4School, Ksenia has been awarded a scholarship to Whitehouse Institute of Design, Australia. We caught up with Ksenia to ask about her experience in the competition, the inspiration behind her designs, and her future goals.
What inspired you to enter the Wool4School competition?
I've always enjoyed designing and creating things because of the freedom and limitless possibilities. Not only that, but for me, I found art as a form of self-expression which is why I decided to participate in the Wool4School competition. Since I enjoy learning, I found out that by participating in the competition I would learn more about the wool fibre industry as I continued to strengthen my design skills.
Can you explain the story behind your design?
My design is mainly centred around the idea of self-expression within people. Not only through their interests but also through how they view themselves and empowering that vision through the use of the flowers with lips and eyes to represent voice and image. This was inspired by Courtney Act and the mystical and magical music video of 'Cold Heart' by Dua Lipa and Elton John, as I saw this symbolism through their work. Not only that, but I also touched on the waste within the textile industry by designing my outfit to be convenient for any type of occasion, whether in the evening or the morning, through transformable zips around the arms, legs and waist.
What was your favourite part of the competition?
My favourite part of the competition would be the unlimited creativity and design aspect. Though a brief was given, there is no restriction to what you can do. Not only that, but I loved the learning and competitive part of it. It made me step out of my comfort zone to think of something unique and original as well as learn about all the amazing aspects of merino wool which I didn't know until participating and learning about it.
What are your thoughts on your win?
I am genuinely amazed, I'm very grateful and honoured to be chosen as this year's 'aspiring designer'. In my head, I was focusing more on the designing part of the competition, staying in the present and being real with my design's context and purpose rather than thinking of the end of the competition. The journey taught me so much more than the actual results, not only about wool but also the innovative aspects of it that can beneficially impact the fashion industry. I would've never experienced or learnt this if I hadn't decided to participate, which is why I'm so thankful for this entire journey from year 10 to this exciting opportunity.
Do you have advice for students who are thinking of entering next year?
Honestly, give it a go. Go big, go bold, and think outside the box. Don't shy away from designs you feel won't make sense, because in my experience the more time you put into the design the more it starts to fall into place, like sculpting clay. Map out the big chunks and when you're confident, focus on the detail! I would also say to ask for opinions and welcome them with an open mind because it will strengthen and build upon your ideas.
What are you looking forward to the most about attending Whitehouse next year?
The thing I am looking forward to when attending Whitehouse is having the opportunity to meet and study with like-minded people that are creative and enjoy art. As well as sharing my passion and expanding my innovative and creative skills whilst also being supported along the journey.
Check out Ksenia's winning entry